Another U3A effort.
Rudolf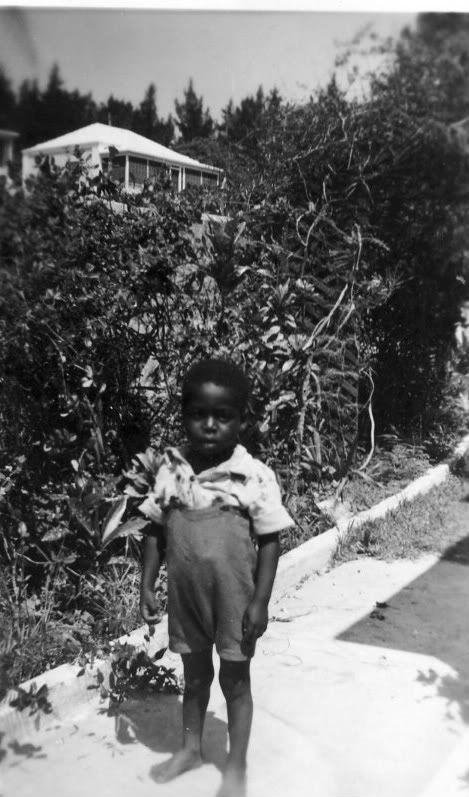 Rudolf
My father had been posted to HMS Malabar, in Bermuda, and he had been sent on ahead with my mother and I following on the returning lend lease aircraft carrier HMS Ranee, which having dropped off families of personnel and new troops, would carry on to the USA.
My father had rented a house, ahead of our arrival and it came complete with a once week cleaner named June Clarke. On one occasion June was very embarrassed that she had to bring her small son Rudolf with her as her mother, who usually looked after the lad was unwell. My mother smiled and put her at ease saying "Rudolf can play with Michael".
Rudolf was five years old when I met him and I was seven. He , and his mother were the very first shiny black people I had ever met and I was intrigued. We had arrived from war weary Britain to the colour wary society of Bermuda. We got on really well, we played on the beach below our house, digging big holes in the pink coral sand and chasing the striped 'Sargeant Major' fish in the rock pools. The coral was sometimes very sharp and I cut my hands on it and we were both fascinated watching the little fish rushed to the small dribble of my blood that escaped. Rudolf had also cut his hands in the past and when mine were healed we compared and laughed at his pale scars on his dark skin and my dark scars on my pasty white skin.
It became a routine that when June came to do the housework, Rudolf came too and on some occasions he would stay overnight and we would run around in the dark shrieking as little boys do, until exhaustion made us sleep the sleep of the tired and happy.
My mother and father made friends amongst the coloured population, , which was somewhat frowned upon by the then very colour conscious Bermuda society but it did have its positive side for us. Three times during our three years in Bermuda, my father arranged the use of one of the Malabar small transport boats as long as he could get a volunteer crew of four . He never had a problem as the coloured crews thought so well of him, and we would spend a day sailing around Bermuda, fishing and swimming in the beautiful clear waters.
During our second year on the island, we were struck by a very severe hurricane. PawPaw trees were stripped of fruit and many boats were damaged one of which were Rudolf's father's. Part of his income was from fishing and he was out when the storm broke. Probably unwise but he was a hard worker and needed the income. Sadly he never returned.
At the end of the three years my father was posted to the Reserve Fleet in Harwich in Essex. Rudolf and his mother waved from the wharf as we sailed for New York where we boarded the RMS Queen Mary bound for England. I lost contact with Rudolf as were at an age where letter writing was not high on our agenda.
About 6 decades later, through the ubiquitous nature of the internet and Facebook, I miraculously made contact with Rudolf, who had risen to be a harbour pilot for the Bermuda Government It brought back for both of us, memories of long ago. I am so glad that contact was made as about 3 years ago I was informed by his son that he had died. I then felt compelled to write.
The coral scars upon my hands,
Smooth patches cutting lines upon my palms,
Are witness to our childhood in the sun.
Your hands, so dark, have paler scars than mine.
Time long has passed since speckled dragon fish
Moved warily through grottos we had made
Painstakingly among the warming pools,
The while we talked of what we both should do
When we were old enough to join the world.
I wept with you when far beyond the reef,
Your father's boat became as kindling wood.
We both threw flowers out into the sea,
Bright messengers of memory and love.
And now you look into my eyes
But neither you nor I will dare to speak,
Or join the jagged marks within our palms.
Our mothers.